October 20, 2015
By Jennifer Epstein
MEDIA CONTACTS:
Vidhya Murugesan
vmurugesan@bloomberg.net
(212) 617-0586
Katelyn Ellison
Communications Specialist
New Hampshire Institute of Politics & Political Library
kellison@anselm.edu
(603) 222-4115
No Groundswell for Biden in New Hampshire: Saint Anselm/Bloomberg Politics Poll
The vice president is lagging well behind favorites Bernie Sanders and Hillary Clinton among likely Democratic primary voters.
Vice President Joe Biden trails the two leading candidates for the Democratic presidential nomination by more than 25 points each in New Hampshire and would enter the race without an edge over them on overall favorability or specific personality traits.Biden would draw the support of 10 percent of likely Democratic primary voters if the primary were held today, according to the Bloomberg Politics/Saint Anselm New Hampshire Poll released Tuesday. That puts him well behind Vermont Senator Bernie Sanders, who's led most recent polls in the state that neighbors his own, who gets the support of 41 percent of those surveyed, and former Secretary of State Hillary Clinton, who's at 36 percent. When Democrats first and second choices for the party's nominee are combined, Clinton edges Sanders: 64 percent of Democrats rank Clinton as either their No. 1 or No. 2 choice for the nomination. For Sanders, the number is 63 percent; for Biden, 29 percent.
Read the questions and methodology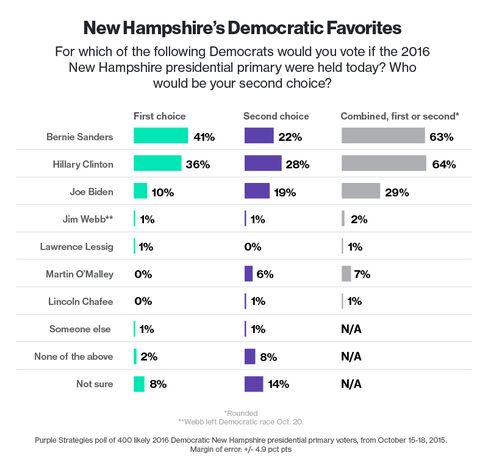 Former Virginia Senator Jim Webb, who dropped out of the Democratic race on Tuesday, was the first choice of 1 percent of those surveyed and the second choice of 1 percent. Harvard Professor Lawrence Lessig was the first choice of 1 percent, while former Maryland Governor Martin O'Malley and former Rhode Island Governor Lincoln Chafee got no support as a first choice candidate but drew the backing of 6 percent and 1 percent, respectively, as a second choice candidate.
Bloomberg Politics/Saint Anselm last polled New Hampshire Democrats in June—before Sanders' surge—and Clinton led him 56 percent to 24 percent then. Biden was not named in that survey.
The anemic showing for the vice president comes as people close to him say he's nearing a decision on whether to get into the race, though there have been several false alarms in recent weeks. Advisers have said that Biden's choice won't be driven by polling and will instead be swayed by whether he believes that he and his family would be able to withstand the stress of the campaign after losing his older son Beau Biden earlier this year.
Thirty-six percent of Democratic primary voters surveyed say that Biden's drawn out decision-making process made them less supportive of him, while 62 percent say it doesn't matter to them.
Biden has signaled that his bid would ride on the successes and popularity of President Barack Obama, who got favorable ratings from 83 percent of the New Hampshire Democrats surveyed. Biden's 75 percent favorability rating put him behind both former President Bill Clinton (78 percent) and Hillary Clinton (77 percent). The differences are more pronounced among those voters who feel most strongly: Obama got "very favorable" ratings from 50 percent of New Hampshire Democrats. For Hillary Clinton, that number is 40 percent. For Biden, 29 percent. The highest favorability rankings went to Sanders, from neighboring Vermont: 86 percent rated him favorably and 55 percent "very favorable."
On questions of personality and ability to govern, the vice president generally trails Clinton and Sanders.
Clinton leads the field on leadership questions, with 49 percent of those surveyed saying she's most ready to be president. Biden, despite being a heartbeat away from the presidency for nearly seven years and having served in the Senate for nearly four decades, is seen as most ready by 21 percent of respondents, barely ahead of Sanders, who's at 20 percent. Clinton also has an advantage in being seen as knowing best how to get things done in Washington and in handling Russian President Vladimir Putin. And Democrats see her as their party's strongest potential standardbearer: 50 percent of respondents say that Clinton would be best capable of beating the Republican nominee in the general election. Sanders is next at 19 percent.
Sanders does better than Clinton and Biden on traits of authenticity and likability, which the vice president's allies have suggested would be his advantage. Sanders is seen as most authentic by 57 percent of those surveyed, while 19 percent call Biden the most authentic, barely ahead of Clinton at 16 percent. The Vermont senator also gets the highest marks among voters asked which candidate cares most about them – 51 percent say that of Sanders, while 23 percent say it of Clinton and 10 percent say it of Biden. Sanders also has an edge on being trusted to tell the truth, 53 percent to Biden's 17 percent and Clinton's 13 percent.
As Clinton's testimony before the House Select Committee on Benghazi approaches, Democratic primary voters are divided on whether the panel is inflicting damage and if that is swaying their support of her. Twenty-eight percent of those surveyed said it makes them less supportive of her while 67 percent said it doesn't bother them. Nearly identical numbers say the same about he not being forthcoming about the private email server she used while at the State Department.
New Hampshire Democrats are evenly divided at 47 percent each on whether Sanders' 2005 vote to give gun manufacturers immunity from lawsuits makes them less supportive or does not bother them. Sanders' description of himself as a "democratic socialist" is even less of a drawback, with only 16 percent of voters saying that makes them less supportive of him.
The poll was conducted by Purple Strategies from Oct. 15-18 and surveyed 400 likely Democratic primary voters by landline and cell phone. The margin of error is +/- 4.9 percentage points.